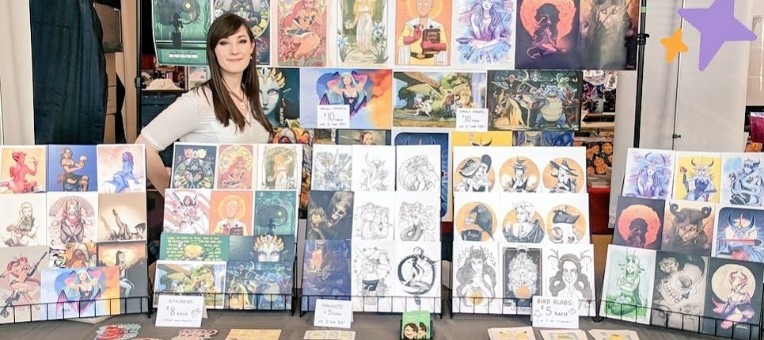 Hi everybody!
Convention season is picking back up so I'll be using this news post as a reference for conventions I'll be attending. If you've ever wanted to support my work, meet me, or talk shop in person, I'm planning on travelling to all of these Canadian cities (and Portland) in 2019!
Also since some of these shows have yet to be locked down, I'll leave a little * asterisk if I haven't officially gotten in.
Check it out!
🐦 Edmonton - Animethon (Aug 9-11)
🐦 Montreal - Otakuthon (Aug 3-5)
🐦 Edmonton - Animethon (9-11)
🐦 Toronto Fan Expo - (Aug 29-Sep 3)
🦅 Portland - Rose City Comic Con (Sept 7-9)
🐦 Edmonton Expo (Sept 21-23)
🐦 Calgary - Foothills Comic Con (Oct 5)
🐦 Halifax - Halcon (Oct 25-27)
🐦 Calgary - Calgary Holiday Market (November 30)
🐦Edmonton - The Gamers Lodge Community Holiday Market (Saturday December 7th)
🐦 Edmonton- The Witchery (Dec 21-22)
P.S. Pico Day falls on a convention weekend for me this year, so I sadly won't be able to visit my pals in Philly for the big day -- I'll be in Ottawa for Comic Con instead! Hope everybody still has a fantastic time regardless. Wish I could be in two places at once. </3
P.P.S. Lawd have mercy on me for somehow booking 5 consecutive con weekends in a row. Please check on in me during my 6 week convention gauntlet lol -- the most I've ever done in a row was 4, and my body is not ready. haha
P.P.P.S. If you WON'T be visiting any of these cities or events but you STILL want to support my work somehow, my Etsy Shop is likely the best / most worthwhile purchase you could make in terms of getting the most out of your money. I personally package and ship those orders myself, so I usually toss in a couple extra goodies when I get orders. Obviously I have to close down the store while I'm away at conventions, so if you'd rather just donate some COLD HARD CASH on Ko-fi, that's an option too if you don't want anything in return.
Thanks for checking out my tour dates!
Cheers!