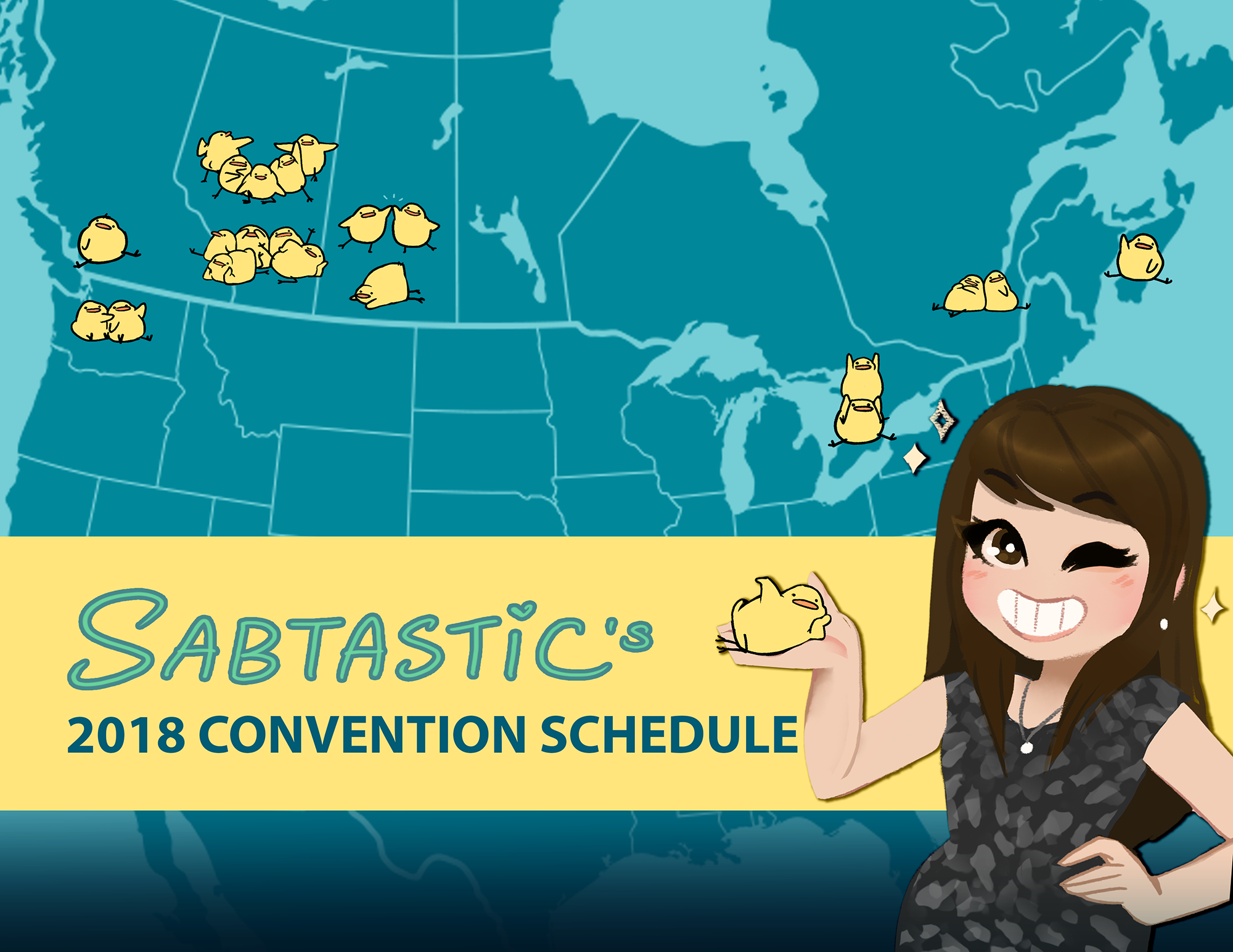 Here's which conventions I'll be attending this year if you're interested in checking out my art or meeting me! 
I'll add to the list as I get confirmed for shows, but here's the projected list for 2018 so far!
Feel free to drop a line here or on social media letting me know if you'll be attending the show, too! It's always nice to put a face to a name ahead of time. If you know of any shows you think my art might be a good fit for, feel free to suggest it here, too! I'm always looking for new cities/towns/events to check out, and I try to add a few new artist alleys to the roster every year.
FEBRUARY
Edmonton, AB - THE WITCHERY (Feb 17-18)
MARCH
Seattle, WA - EMERALD CITY COMIC CON (March 1-4)

Edmonton, AB - POP CULTURE FAIR (March 25)

Seattle, WA - SAKURACON (Mar 30-Apr 1)
APRIL 
Calgary, AB - CALGARY EXPO (April 26-29) 
MAY
Regina, SK - FAN EXPO REGINA (May 5-6)

Calgary, AB - OTAFEST (May 18-20)

Toronto, ON - ANIME NORTH (May 25-27)
JUNE 
Calgary, AB - HORROR CON (June 2-3) (unconfirmed)
JULY 
Montreal, QC - MONTREAL COMIC CON (July 6-8)

Calgary, AB - NSFCON (Date TBA) (unconfirmed)

Saskatoon, SK - GANBATTE CON (July 21-22)
AUGUST
Vancouver, BC - ANIME REVOLUTION (August 4-6)

Edmonton, AB - ANIMETHON (August 10-12) 

Toronto, ON - TORONTO FAN EXPO (August 31-September 2)
SEPTEMBER
Saskatoon, SK - SASK EXPO (September 15-16)

Edmonton, AB - EDMONTON EXPO (Sept 21-23) (unconfirmed)
OCTOBER 
Calgary, AB - FOOTHILLS (October 13) 

Halifax, NB - HALCON (October 26-28) (unconfirmed)
NOVEMBER
Vancouver, BC - VANCOUVER FAN EXPO (unconfirmed)
DECEMBER
JANUARY
Edmonton, AB - TASTE OF ANIMETHON (Date TBA) (unconfirmed)