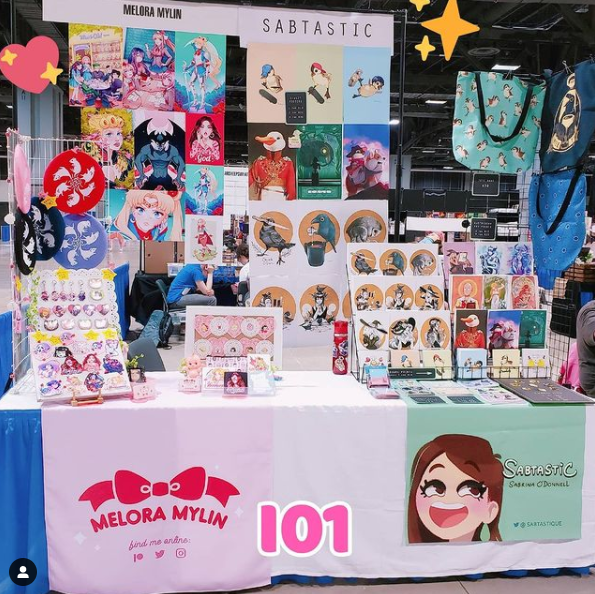 Hey Newgrounds! It's been a hot minute!
Hope you've all been safe + healthy!
I'm happy to announce that I'm finally back to my primary artist job of travelling to comic cons and artist alleys since the pandemic started. Feels really nice to be getting back to work after so long.. although international flights are still a little stressful.
Here's what my shared table from Otakon (in DC) looked like! I went for the first time with my talented friend Melora! (above)
Personal projects that got shelved for the pandemic are finally getting dusted off again, so I'm getting back to work designing new stickers, enamel pins, and that goofy 'Bird Crimes' Zine from a thousand years ago. Of course, I'll be posting all of that stuff here, so stay tuned! Already posted 1 or 2 new things in my gallery!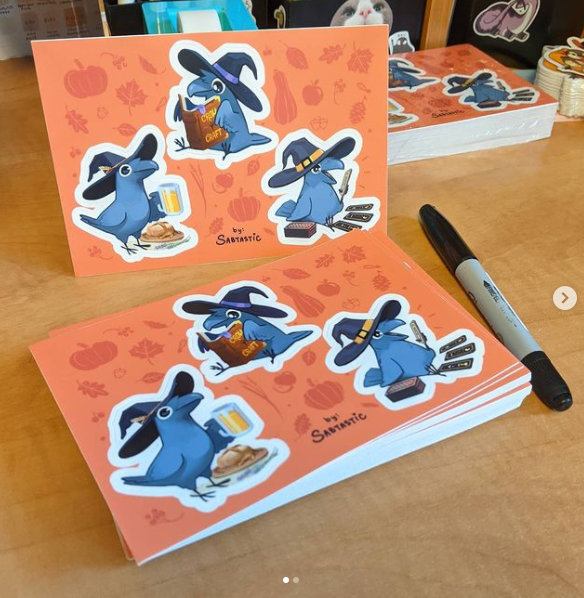 Here are the next few conventions I'm hoping to go to, in case they're anywhere near you! :)
Anyone planning to go to any of these?
Sept 10-12 - Calgary Expo (Alberta, Canada)
O̶c̶t̶ ̶1̶-̶3̶ ̶-̶ ̶E̶d̶m̶o̶n̶t̶o̶n̶ ̶E̶x̶p̶o̶ ̶(̶A̶l̶b̶e̶r̶t̶a̶,̶ ̶C̶a̶n̶a̶d̶a̶)̶ <-- cancelled + moved to 2022
O̶c̶t̶ ̶2̶2̶-̶2̶4̶ ̶H̶a̶l̶c̶o̶n̶*̶ ̶(̶H̶a̶l̶i̶f̶a̶x̶,̶ ̶N̶S̶,̶ ̶C̶a̶n̶a̶d̶a̶)̶ <-- waitlisted, will update if that changes
Oct 15-17 - The Witchery Market ( Edmonton, AB)
Oct 16 - The Cauldron Market (Edmonton, AB)
Oct 29-31 Winnipeg ComicCon (Winnipeg, MB)
Nov 6-7 Geeky Holiday Market (Edmonton, Alberta)
Dec 10-12 - C2E2 (Chicago, IL)
Jan 6-9 - MAGfest (National Harbor, MD) <-- not confirmed yet!
Jan 14-15 - A Taste of Animethon (Edmonton, AB)
Feb 19-21 - Vancouver Fan Expo (Vancouver, BC)
April 15-17 - Sakuracon (Seattle, WA) <--just going for fun with friends
June 17-19 - YetiCon (Blue Mountain Resort, Ontario, Canada)
If conventions and big crowds aren't exactly appealing to you; totally understandable. It's kind of a lot right now, and I think a lot of folks are taking a break from large gatherings until things calm down a bit more. That said, I promise I'll always take everyone's safety seriously and mask up + provide sanitizer at my table, if you ever come out to see me! :)
I should ALSO mention something kind of new I don't think I've ever mentioned on Newgrounds before;
I made a private Discord Server! 🎨 🐔

It's a small artist community, and we're a really active little cluster of ~150 creative people. It's called The Birdhouse!
[It costs 1$ to join, through Patreon], and you can stay in, even after your pledge cancels / ends!
Here's our September calendar: we're planning a bunch of Drink and Draw events on Saturday nights, and we usually do the odd drawpile, D&D session, or game night in between!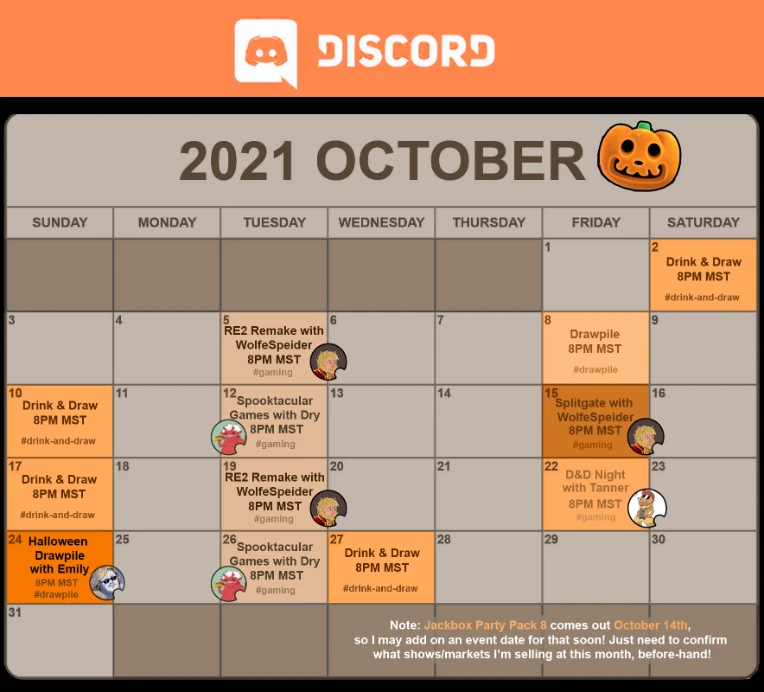 ANYWAY; that's about it!
Take care, everybody!